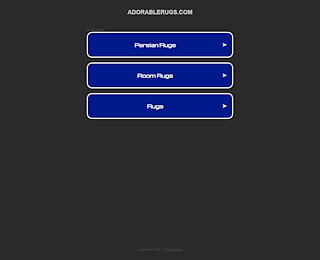 Decorating has never been so affordable. Adorable Rugs is a premier supplier of traditional Oriental area rugs at some of the best prices you'll find online. You'll find authentic made in Turkey area rugs in all sizes, starting at $130, with free shipping available. If you've been searching for quality home decor to complement the look of your existing furnishings, you'll find the styles available from Adorable Rugs to be just what you've been looking for.
Invest in one of the beautiful traditional Oriental area rugs from adorable Rugs for a look that never goes out of style. While contemporary fashions tend to come and go throughout the years, the more traditional patterns and colors are timeless in adding aesthetic value and elegance to the home. Adorable Rugs carries only high quality rugs that are stain resistant and made of durable polypropylene to ensure that whatever color and style you select, it will not fade over time. Shop the traditional collection to see what's available.
Do you love the look of traditional Isfahan Oriental rugs? You'll simply adore the elegant color combinations and patterns Adorable Rugs carries. Their beige, black, ivory and burgundy Isfahan Oriental designs are sure to please, with designs that are traditionally beautiful without being too busy. Starting at just $150, you won't find a comparable product at the same price, regardless of where else you shop. Adorable Rugs is currently offering their traditional Oriental area rugs with free shipping!
Area rug #4338 is a kaleidoscope of traditional colors and patterns that is an ideal design for the home with small children that may be prone to spills. The darker colors and stain resistant qualities of this rug make it the perfect option for the family who does not want to compromise on luxury but may have to deal with an occasional spill. This rug is designed to release spills through the application of mild, liquid detergents and blotting, so you can allow your family to enjoy this sensational piece without keeping your children from walking or playing on it.
With antique green as the predominant color running throughout the rug, you'll also notice an interesting and exciting combination of cream, beige, red, burgundy, black, ivory and brown. This area rug will soon become the center-piece of any room you place it in. #4338 is also available in red as the background color. A bolder option than the green, the red would make a fabulous addition to a dining room, when positioned under the table and chairs. The occasional piece of food dropped on this area rug can be easily treated and blotted dry with no damaging effect.
Discover why more decorators turn to traditional Oriental area rugs from durable Rugs for quality that is consistently reliable and prices that simply can't be found elsewhere. Browse the inventory or click on the Live Chat button for immediate assistance or answers to any questions you may have during your visit to AdorableRugs.com.
Traditional Oriental Area Rugs