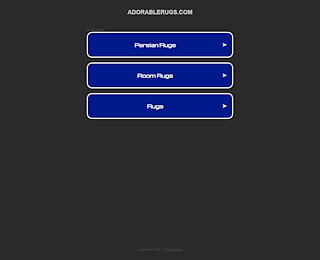 Traditional area rugs don't have to be costly to be beautiful. Adorable Rugs carries a terrific selection of traditional area rugs in a variety of sizes, styles and color schemes that can go far in complementing the look of any room in the home. If you love the traditional Oriental or Victorian look and are having a hard time finding a quality rug that matches your preferences, feel free to browse the online inventory of AdorableRugs.com to discover how affordable quality can be.
While contemporary and abstract styles may be all the rage, there is certainly something to be said for choosing traditional styles and color to decorate a home. Going bold may indeed make a dramatic statement, however not all bold actions result in beneficial results. For a consistent appeal that is guaranteed to make a positive impact, traditional area rugs are sure to always be in style.
Shop the traditional inventory from Adorable Rugs and we're certain you'll agree, there is something truly elegant about owning a piece of traditional art- and being able to display in the home. Traditional color choices are bold and vivid yet never in-your-face like some contemporary combinations you'll find on the market. As well, traditional patterns are complementary to the colors used in the manufacture of the rug- the result is aesthetically pleasing without going too far.
Consider the benefits of choosing traditional styles and colors for your home:
- If you're remodeling or decorating with the sale of your home in mind, you'll find that resale value and mass appeal dictate a traditional theme. More traditional colors and patterns can help a home buyer see the potential in each room, allowing them to make your home their own when thinking about buying.
- Go with a more traditional piece and you'll be able to change out furnishings and wall art without having to worry that they will clash with your traditional area rugs. You can maximize your future design possibilities by always selecting a traditional theme for accents.
- Enjoy your favorite traditional pattern by selecting neutral colors and you'll convey a look that is fun without looking too busy.
- While contemporary or modern fashion critics are quick to point out how much more 'fashionable' their preferred style of decor is, the fact is that traditional never goes out of style. Sophisticated ideals will change and demand that a homeowner keep up with the trends. Traditional demands nothing- it simply offers tremendous value year after year.
See what's new in traditional- shop the online collection from AdorableRugs.com and bring beauty and value to your home at a very affordable price. Just click on 'Traditional' at the top of the website's home page to get started. You'll find incredible deals and beautiful pieces for sale that will offer comfort and elegance to any space you place them in. Discover the benefits of decorating with a more traditional eye- you and your guests will love the end result.