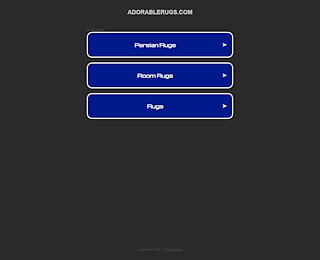 Are you shopping for contemporary bathroom rugs? You're going to love what's available from Adorable Rugs. If you're searching for something special or a product unlike anything else you've come across in bathroom decor, feel free to browse the online inventory at AdorableRugs.com. Just select 'Bath' from the top of the home page to see what's available.
Do you dream of stepping onto a soft, Persian rug when your shower or bath has ended? Most bath mats purchased from big box stores just don't live up to the expectations of customers. For this reason, Adorable Rugs has committed to going the extra mile to meet the demands of their shoppers, with an impressive inventory of soft and fluffy contemporary bathroom rugs in a wide variety of colors and sizes. You've never felt anything so soft underneath your feet!
There are luxurious Persian bath rugs available in sizes to meet the requirements of any bathroom- even up to 20x54". Your may find your guests excuse themselves from your party more often than usual to use your bathroom once they've discovered your flooring decoration. Persian bath rugs from Adorable Rugs are designed with beauty and function built into one product, with unique colors that can complement the look of your bathroom, regardless of your existing decor. Rugs are soft and plush, yet highly durable to stand the test of time.
Persian bath rugs are ideal for any bathroom that is not subject to flooding, and will remain very easy to maintain provided your rug is not kept in an area where it will be abused. You'll probably want to select a more suitable bath rug for your child's bathroom in the event that the sink may overflow or toothpaste may end up on the floor. For the adult bath, or as a guest powder room, the Persian rug is an excellent choice.
Keeping your Persian rug looking like new requires only a small amount of maintenance. Keep an emergency spot cleaning kit close at hand in the event that something should spill on your rug. Your kit should include an absorbent cloth, a sponge, an eyedropper, dry cleaning fluid, white vinegar and detergent solution. Pretest on a corner of the rug to ensure that your solution will not cause permanent damage to the rug. Apply the appropriate solution for the stain, after researching what is needed, blot, never rub, and absorb the solution with the stain until the stain is removed. In this way, your rug will stay looking great for a long time to come.
Feel free to look through the onsite selection of Contemporary bathroom rugs available on the AdorableRugs.com website. Prices start at just $20! To speak with a rug pro from Adorable Rugs, click on the Live Chat button at the top of any page to instantly connect with someone who will be happy to answer your questions. Check out the FAQ page for answers to some of the most commonly asked questions from customers.