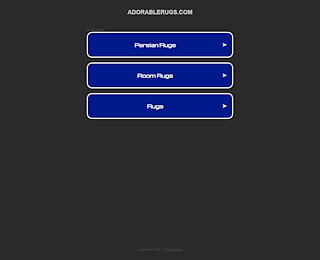 Adorable Rugs carries modern and traditional area rugs for the dining and living areas of your home in bold and vibrant colors and designs you'll love displaying on your floors. If you're in the process of upgrading or remodeling your dining area, don't forget to pay attention to the detail of your floors. Aesthetic appeal is all in the details.
Customers love browsing through the inventory at Adorable Rugs. Shop by size, brand, price, color, manufacturer, or just scroll the photos until you find a color scheme to your liking. Click on any of the pictures to find out more about each product. Adorable Rugs is currently offering free shipping on their area rugs- a huge benefit when shopping online, since area rugs can typically cost a great deal to ship, due to their weight.
Click on the Traditional Area Rugs for dining and living room options. You'll simply love what's available in the Adorable Rugs inventory!  
- #653 Black Isfahan Oriental Area Rug is one of the most beloved in the Traditional inventory and features a very ornate design of ivory, burgundy and light brown decorations with black interwoven as an accent. The centerpiece is reminiscent of a flower, with petals all around. As with the other rugs available, it is made in Turkey and is stain resistant. This piece is available in two sizes to better meet your needs.
- #5908 Blue Oriental Area Rug is just what is needed for the traditional home decor that is subtle yet engaging. Masterfully woven with china blue, ivory and blacks, your guests will find their eyes being drawn to this piece again and again while they are in your home. Not all area rugs for the dining room are suitable to fit the decor. This piece comes across as anything but presumptuous- available in two sizes. 
- A100 Blue Oriental Area Rug is like a peacock on display across your floor, making no pretense of being indiscreet. This picture-perfect area rug is bold and tasteful with its aqua-blue and brilliant canary-yellow accents, hidden among a kaleidoscope of intricate color. You simply must see this piece to appreciate its brilliance!
If you're looking for something that's the perfect combination of contemporary meets traditional, you'll love the Transitional area rugs for the dining and living rooms from Adorable Rugs. Choose from abstract and traditional coordinates that blend their form for accentuation in your home. There are unlimited colors to choose from and a wide range of designs, from pseudo-abstract to patterned, and even a few with subtle pictographs.
Customers love the prices at Adorable Rugs; in fact, you'll may find they are among the least expensive on the Web in their category. Browse the inventory or narrow down your criteria by selecting your preferred price range, color, manufacturer, size, or brand and see why Adorable Rugs is the premier supplier of area rugs for the dining and living rooms. For immediate assistance, click on the Live Chat button to speak with a specialist.
Area Rugs For Dining