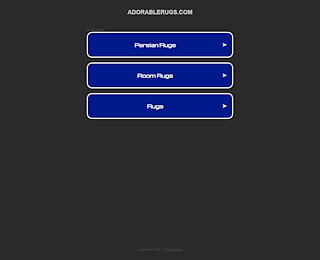 Are you remodeling your living room or upgrading the look of your home? Don't forget your floors! Adorable Rugs carries quality abstract contemporary area rugs at terrific prices. If you're currently looking at rugs but haven't found anything to your liking, feel free to browse the inventory at Adorable Rugs.
For a limited time, Adorable Rugs is offering free shipping on all orders, including all traditional modern and transitional area rugs, and all kitchen and bathroom rugs. It's typically quite expensive to ship a heavy area rug, so take advantage of this discount while it lasts.
You'll love the abstract contemporary area rugs at Adorable Rugs, with their bold, vibrant color schemes and design elements creating an abstract look that is ideal for any modern living area. Most of the contemporary area rugs in the Adorable Rugs inventory have a retro or historical pattern, giving the item a unique appearance that complements the modern style. You'll also find many rugs that are replicates to period art. 
Feel free to take a closer look at the abstract contemporary area rugs available, including the following:
- # 6021 Beige Abstract Area Rug, made in Turkey, it is stain resistant and manufactured from high quality polypropylene. This rug is available in two sizes: 5'2" x 7'2", and 7'1" x 10'6". 
- # 5906 Customers absolutely love the Black Abstract Area Rug with its sea foam, red, cream, tan and brown designs that range from horizontal and vertical lines within squares to circle-within circle patterns, with solid color blocks thrown in to the mix. This area rug really captures the imagination of the viewer and will add a feeling of warmth to your home. Made in Turkey, this rug is stain resistant and comes in one size only: 5'3" x 7'3".
- # 5905 Beige Abstract Area Rug is very different from other Beige rugs in that there is a distinct conveyance of the contemporary home implied in the depths of the design and colors chosen for this piece. Its red, black, brown, cream and sea foam colors collide to form radical yet coordinated shapes- each square and rectangle offering something unique. Leaves and stems in natural colors make this rug a great choice. Made in Turkey, this rug is stain resistant and comes available in: 5'2" x 7'2", and 7'10" x 10'2".
- #5124 Burgundy Abstract Area Rug is an extremely popular choice and takes on the appearance of broken stained glass in shades of red, black, cream, light blue, orange, burgundy and off-white. This rug will become the centerpiece of any space you place it in. Made in Turkey, this piece is stain resistant and comes in the following sizes: 5'2" x 7'2", and 7'10" x 10'2".
You'll love browsing the inventory of abstract contemporary area rugs from Adorable Rugs! Just click on the 'Modern' link at the top of the home page to get started. If you see something to your liking or have questions about any of the products, feel free to click on the red Live Chat button at the top of any page for immediate assistance.